This little/big car has sadly got to go. Genuine reason for sale. I can not transport my surfboard and mountain bike on it or in it. We need a bigger car which we have already bought so this has to go. I am selling it as a package, I will not split. They don't make them anymore so they are getting harder to find especially with low miles. Have had the car from July 2017. Returns 60 MPG when cruising at 55/60 Turning circle is like a black taxi cab, it turns on a sixpence. Easy to park. One of the safest cars on the market having airbags everywhere.. it's a four seater but really a two plus two.We leave the back seats down and there is plenty of room for shopping etc or if you have a dog. It has been serviced at every mot regardless of miles covered. There is no cam belt because it has a chain. So no worries there. This one has the nice white interior, better than the brown but that's my opinion. So we have.
2013 Toyota IQ 1.0 Manual.5 speed.
FSH
23350 miles. Still in use but not a lot so this will change.
Had four new tyres at 17838 miles.
New front discs and pads at 21000 miles.
Two keys.
MOT runs out on 1/12/2020
zero road tax.
Only two owners including us.
Towmaster 2 A-frame.
This was from LNB towbars in Bristol and fitted by a agent for them in Barnstaple who looks after my motorhome. I am fussy with fitting so the electric socket is hidden behind the front number plate which has quick release clips on and also the back one. Cost of the A frame new is £2700. Yes it's a lot of money but it is all sing all dancing A frame. Has the invisi brake system making it fully electronic braking. The arms of the A frame slide so you don't have to line up the car straight on and as you pull away they slide out and lock into position. Check out LNB tow bars website for a full video showing how it works etc. It really is a nice bit of kit. Has a 1700 kilogram capacity. Is really light and goes in a carry bag. Fits in the back of the Toyota takes up no room at all really.
So that's about it, sure I have missed something. If you are interested PM me your number or email and I will get back to you. We are at lady Margaret's CMC site and then Porthmadog Snowdonia area.
Price £5950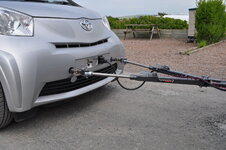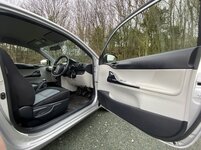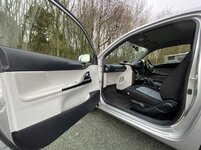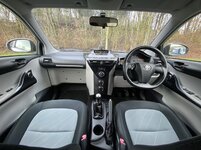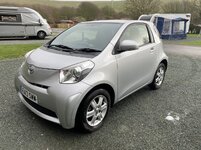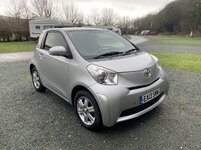 Last edited: