Hello all!
Hope you are all doing well and looking forward to a fun Summer travelling.
I'm about to start restoring a 1978 Dodge Apache RV, but I am finding it really difficult to source a couple of things.
1. A hinged quarterlight replacement glass- can this be custom cut? Do people custom cut auto glass?
2. I can't find a replacement body part, the windscreen cowl cover, for a similar vehicle. Does anyone know of any American dealers in the UK, please?
Both offending articles on picture below.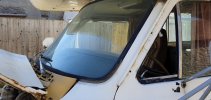 I've exhausted my laptop, trawling on WWW and then getting really distracted by other stuff.
Any help gratefully accepted! All good wishes,
Paul